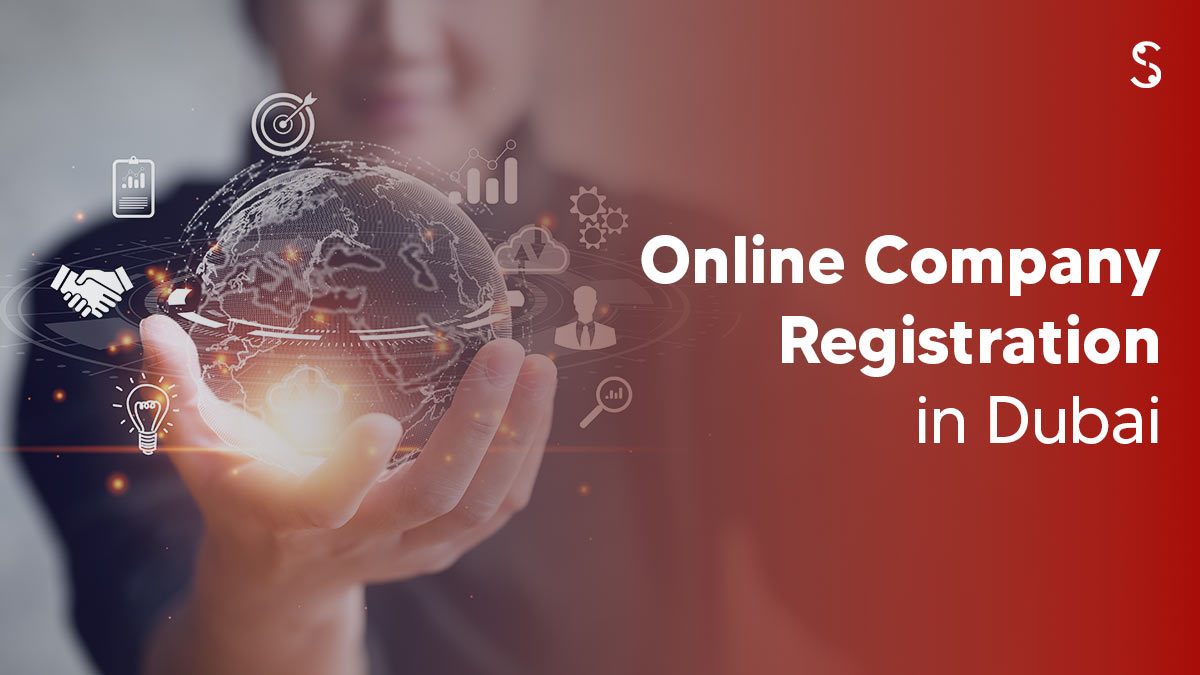 Suppose you're a business owner or aspiring entrepreneur. In that case, you've likely contemplated starting a new venture in Dubai or expanding your presence in the booming economic centre of the Middle East. Dubai, within the United Arab Emirates, presents an exceptionally profitable environment for business growth. In this blog post, we'll outline the various steps in registering a company online in Dubai. Keep reading to learn more. 
Compelling Reasons for Online Company Registration in Dubai
Here are the key factors that make Dubai an attractive destination for new company registration: 
Strategic geographic positioning

 

Succeeding international business hub with a focus on growth

 

Favorable tax structure and minimal tax obligations

 

Exceptional infrastructure and extensive global connectivity

 

Enthusiastic government backing for entrepreneurs and investors

 

The opportunity for 100% ownership by expatriates, both on the mainland and in free zones.




 
Benefits of Company Registration in Dubai
Online Company Registration in Dubai is a preferred destination for business registration, offering numerous advantages to foreign investors. These advantages encompass: 
1. Tax Incentives:
Dubai imposes no personal or corporate income tax, and there are no capital gains or withholding taxes. This tax-friendly environment particularly appeals to companies seeking to minimise their tax obligations. 
2. 100% Foreign Ownership:
Foreign investors have the opportunity to fully own a business in Dubai, whether it's located in a free zone or on the mainland. This flexibility simplifies establishing and running a business in the city. 
3. Business-Friendly Legislation:
Dubai boasts exceptionally accommodating business laws, facilitating the commencement and operation of enterprises. There are no constraints on the types of businesses that can be established and no limitations on the number of foreign employees a company can hire. 
4. Outstanding Infrastructure:
Dubai boasts a top-tier infrastructure that includes a modern transportation system, a world-renowned airport, and a cutting-edge telecommunications network. These resources make conducting business in Dubai seamless and enable easy global connections with customers and suppliers.
5. Strategic Location:
Dubai's strategic location at the crossroads of Europe, Asia, and Africa makes it an ideal base for businesses targeting international markets. 
Types of Businesses in Dubai
In Online Company Registration in Dubai, it's crucial to grasp the various business structures available to make an informed choice. Here are the main business types in Dubai: 
1. Mainland Company
A mainland company permits businesses to operate across Dubai and the UAE.

 

With some exceptions, foreign investors can enjoy 100% ownership of mainland companies in Dubai.

 

This setup provides access to both local and international markets.

 
2. Free Zone Company
Establishing a company within one of Dubai's numerous free zones grants several advantages: 
Full repatriation of profits

 

Exemption from specific taxes for a defined duration.

 

However, companies in free zones are generally restricted to conducting business within the free zone or internationally.

 
Note: Each free zone boasts its unique set of regulations and benefits, allowing businesses to select the one that aligns best with their specific needs. 
How to register a company in Dubai, UAE
To commence your business journey in Dubai, follow these essential steps: 
1. Identify the Nature of Your Business Activity
Determine the nature of your intended business activity, which can fall into categories such as: 
Occupational

 

Agricultural

 
Note: Economic licenses may encompass multiple economic activities. The specific nature of your company's move will dictate the type of license issued. 
2. Determine Your Company's Legal Structure

Choosing the appropriate legal structure for your business is pivotal, as it establishes the framework for compliance with relevant laws and regulations. The available options include: 
Sole Establishment

 

Civil Company

 

Public Joint Stock Company

 

Private Joint Stock Company

 

Branch of a GCC Company

 

Addition of a Local Company

 

Holding Company

 

Representative Office of a Foreign Company

 

Carefully assessing your business needs will guide you in determining the most suitable legal structure.

 
3. Registration of the Trade Name
The trade name, or the company's name, is pivotal in establishing your business identity. To register a trade name, follow these guidelines: 
Uniqueness:

Ensure that the chosen trade name is distinctive and not similar to any other registered company. You can initiate the trade name application process through the Shuraa Business setup.

 

Legal Structure Abbreviation:

Incorporate an appropriate abbreviation of the company's legal structure as a suffix (e.g., LLC, PJSC, etc.) in the trade name.

 

Avoid Inappropriate Language:

The trade name should refrain from containing inappropriate or offensive words that may be deemed offensive to the general public.

 

Compatibility with Activities:

Align the trade name with the chosen economic activities your company intends to engage in.

 

No Government References:

Exclude references to rulers, government agencies, or names and logos of government bodies from the trade name.

 

Exclusive Use:

Ensure no other company has registered the same trade name.

 

Approval Process:

Seek approval for the trade name and trademark from the Department of Economic Development and the Ministry of Economy.

 

Renewal:

Keep in mind that trade name certificates are subject to renewal.
4. Apply for Initial Approval
The initial approval serves as the UAE Government's acknowledgment of the proposed business establishment within the country. This authorization permits investors to progress to the subsequent steps required for business setup and license issuance. It's important to note that this significant approval does not grant investors the authority to commence business operations or engage in their chosen business activity. 
5. Create LSA or MOA
To establish your business in Dubai, the next step involves the creation of either a Memorandum of Association (MOA) or a Local Service Agent Agreement (LSA), depending on the legal structure of your company: 
A Memorandum of Association (MOA) is mandatory if your company falls under the legal forms of a civil company, limited liability company, public shareholding company, or private shareholding company.

 

Alternatively, a Local Service Agent Agreement (LSA) is required when your business takes the legal form of sole proprietorship.
6. Choose Your Business Location
Every UAE business must have a physical location from which to conduct its operations. This location must adhere to the guidelines set forth by the Department of Economic Development in the respective emirate and comply with zoning policies and regulations established by local municipalities and other competent authorities. To meet these requirements, it's essential to register the tenancy contract for your office or warehouse space in Dubai through the Dubai Land Department's Ejari portal. 
7. Submit Required Documents
To progress with your business setup, you'll need to submit the following essential documents: 
Initial approval confirmation along with copies of previously submitted documents.

 

A copy of the lease contract adequately attested.

 

Memorandum/s of Association, as specified by your business's legal structure.

 

Any requisite approvals from other government entities as applicable.
Cost of Company Registration in Dubai
Determining the precise cost of online company registration in Dubai can be challenging due to the diverse range of business structures and activities available in the UAE. Typically, for regular business operations, the cost of company registration in Dubai averages around AED 12,500. However, the prices may be lower when establishing a company in one of the free zones.
It's worth noting that additional expenses such as maintenance, office space, visa applications, and other necessities apply. To navigate these intricacies effectively, it's advisable to seek guidance from local business consultants in Dubai. Furthermore, the business registration process in Dubai entails a substantial amount of paperwork, crucial for ensuring business security and compliance. 
Note: The expense associated with registering a company in Dubai can vary depending on the nature of your business. 
Kickstart Your Business in the UAE Today with Shuraa!
Commencing a business venture in Dubai promises boundless opportunities and remarkable growth. However, navigating the intricacies of Dubai company registration can be a complex endeavour, making professional guidance and support indispensable for a seamless and successful journey. 
At Shuraa Business Setup, our track record spans back to 2001, where we've guided entrepreneurs every step of the way, facilitating the establishment of over 35,000 companies in the UAE. Our comprehensive suite of services, encompassing Dubai company registration, UAE documentation, translation services, sponsorship support, business licensing, leased office spaces, PRO services, and more, ensures that your business receives the expertise and assistance it deserves. 
With Shuraa Business Setup, you can trust in punctual, dependable solutions that propel your entrepreneurial aspirations forward in Dubai.